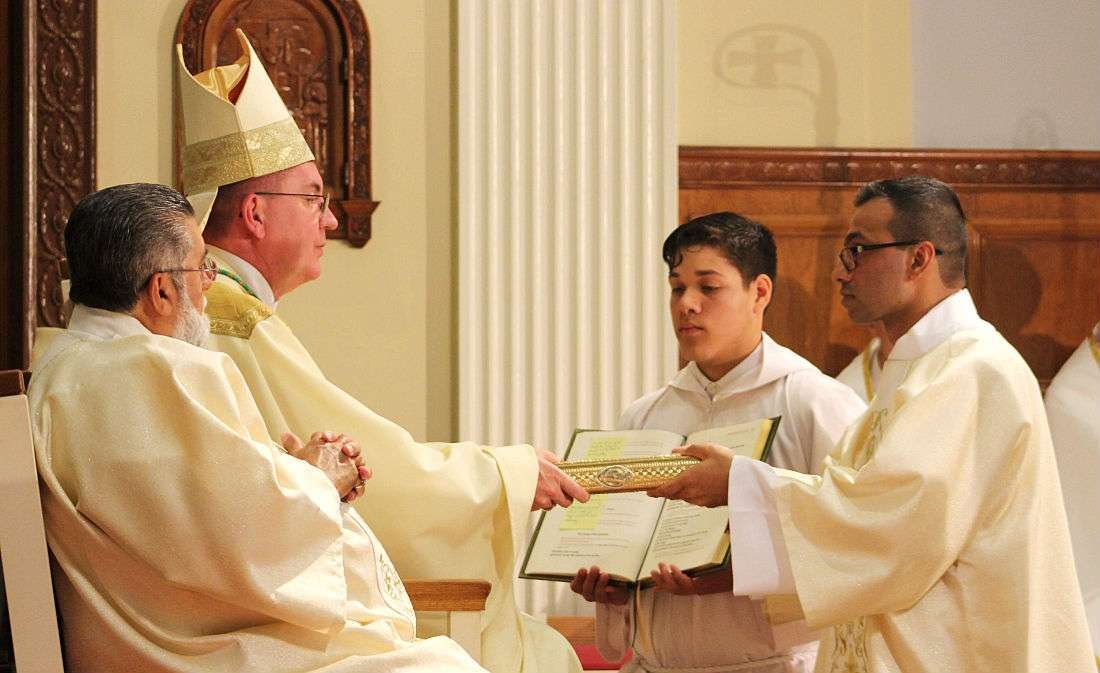 "For the Son of Man did not come to be served but to serve and to give his life as a ransom for many." -Mark 10:45
On Sunday, October 13 H.E. John O. Barres, Bishop of Rockville Center, visited Our Lady of Loretto Church to celebrate mass and ordain our brother Roland Paul Pereira to the diaconate. More than 1,000 people filled the church, including relatives of Roland and teenagers from Idente Youth. Also present at the ceremony were the Procurator General, Fernando Real; the Provincial Superiors of the United States, Robert Badillo and Elaine Schenk; the Rector of the Archdiocesan seminary, Msgr. Peter Vaccari; and Roland's classmates from St. Joseph's Seminary.
In his homily, the Procurator General spoke about gratitude, emphasizing that it is not just a form of politeness, a social courtesy, or even something produced of our own accord. It is a grace that only our Heavenly Father can give us to return to Him and truly appreciate Him in every one of our brothers and sisters. The Procurator General thanked Roland for his service to Our Lady of Loretto parish and the testimony he gives to youth through his vocation.
Before giving the final blessing, Bishop Barres also expressed gratitude to the Idente Missionaries, pointing out their important role in Catholic evangelization at Our Lady of Loretto Church and in Long Island. He then encouraged the congregation to join him in thanking the Idente Missionaries with an applause. Considering the great contributions of the newly canonized St. John Henry Cardinal Newman, the Bishop said that this day is a special moment in Church history. This saint is a sign of the times of today and his life will result in new volcanic explosions of conversions and reversions to the Catholic Church. He then asked for the saint's intercession, inviting Roland to become an instrument of conversion and reversion to the Church in his daily ministry.
Following the mass, a grand reception was held in the auditorium of the St. Oscar Romero Faith Formation Center. Many gathered to personally congratulate our beloved brother and newly-ordained deacon, including those who have traveled far from other Idente parishes of the Bronx and Brentwood. All who attended were touched by the testimony of Roland's vocation.