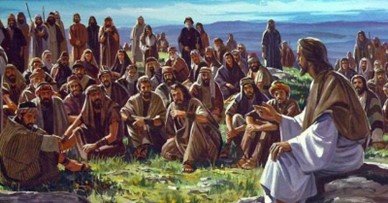 Luis CASASUS | President of the Idente Missionaries
Rome, January 29, 2023 | IV Sunday in Ordinary Time
Zep 2:3; 3:12-13; 1 Cor 1:26-31; Mt 5:1-12.
 1. What are the Beatitudes pointing to? A rabbi normally stood for the reading of Scripture, but they sat down when they were about to offer their key teaching. Jesus sat, and the disciples gathered close to hear.
It is clear that Christ meant something especially important. He offers us a surprising list of what we call Beatitudes, which may seem quite different from one another. Is there any one feature that characterizes them all?
Probably yes, because Jesus wanted to convey an essential message about the Kingdom of Heaven and he did it in such an insistent, clear and concise way, because he fervently wanted people to understand something that seemed contradictory, that is, that people who are considered unfortunate are in a position to receive a unique, unexpected blessing.
Perhaps one way to characterize ALL of the Beatitudes is: Put the center of your life in another person. This applies in the context of our relationships with our neighbor and with God.
* He who recognizes that he is poor in spirit no longer depends only on himself.
* He who lives meekness, is convinced that to attack others is a disgrace.
* He who weeps, knows better how to appreciate the pain of others.
* He who thirsts for justice recognizes that he lacks much to do all the good that is possible.
* He who is merciful, lives for others and does not worry so much about his own misfortunes.
* He who is clean of heart does not wish to use others for his own advantage.
* He who is a peacemaker lives to give true peace to others, even if he needs it even more.
* He who knows that he is persecuted for being just, understands the weakness, envy and fear of those who persecute him and renounces attacking others.
I don't think it is by chance, also the six "Modern Beatitudes" that Pope Francis proposed in 2016, have that characteristic of projecting us outside of ourselves. They represent a practical and evangelical way of going out of myself and looking at others:
Blessed are those who remain faithful while enduring evils inflicted on them by others and forgive them from their heart
Blessed are those who look into the eyes of the abandoned and marginalized and show them their closeness
Blessed are those who see God in every person and strive to make others also discover Him
Blessed are those who protect and care for our common home
Blessed are those who renounce their own comfort in order to help others
Blessed are those who pray and work for full communion between Christians.
It can never be too much to insist on the need to delve into how to get out of ourselves, to live an ever purer ecstasy, a longing that so many artists have expressed in a thousand ways. I remember a recent novel by the Mozambican author Mia Couto, where he says: There is only one way to escape from a place: to get out of ourselves. There is only one way to get out of ourselves: it is to love someone.
Our soul continually seeks to assert itself and dominate our behavior, especially through multiple attachments and the powerful and ubiquitous instinct for happiness. That explains why Jesus set so many examples, through the Beatitudes, to urge us not to react instinctively to pain and contrariness.
Beyond etymology, what does it mean that we can be "blessed"? It is generally said that it is to find spiritual happiness in this life, without waiting for our departure from this world. But, in reality, if we look at Christ's experience and at our own personal experience, however modest it may be, to be blessed supposes, above all, knowing that God is satisfied with what I offer him, with the offering of my efforts, pains and joys….
What greater happiness can I have than to feel the smile of our heavenly Father? And this is not a pious or romantic expression, but the impression of peace, of confirmation that everything I do, say or desire is and will be willingly used by Providence.
Thus spoke of the smile of God by a famous Protestant pastor:
There are earthly misfortunes, under which hearts remain all the while warm and tender, like the flower-roots beneath the winter's snows, ready to burst into glorious bloom when the glad springtime comes. Then there are worldly prosperities under which spiritual life withers and dies. Adversity is oftentimes the richest of blessings. But the loss of God's smile is always the sorest of calamities. (J.R. Miller, Weekday Religion)
Those of us who draw near to Christ perhaps to honestly find a peace or a balance, or a personal fulfillment, should remember his FIRST message on the Mount of Beatitudes which, translated into simple words, surely oversimplifying, is: I give you now that peace in the midst of your sufferings, I assure you that my Father loves you as He loves me and I will prove it to you by giving you souls to take care of.
—ooOoo—
2. The book of Zephaniah, in a style typical of the Old Testament, has threatening and violent expressions. Yahweh speaks of punishment for the infidelity of individuals and peoples. All the evils that befall people, sickness, defeat in wars, famine… are the consequences of their evil deeds. Even so, he already announces God's mercy and joy in contemplating the conversion of his people: He will rejoice when he sees you… He will shout for joy for you as on a feast day (3:17-18).
Christ comes to give us a more precise and concrete vision of the consequences of not living virtue, as we read in the Gospel of St. Luke (6: 24-26) when he speaks to us of the Beatitudes. There we see the consequences in the lives of those who are already satisfied (not necessarily with perverse things), those who demand immediate and complete happiness at every moment of their lives and those who are satisfied (without being hungry) with the good they possess or do.
All the announcement of judgment is understood as a warning and as an invitation to repentance. The often-unwritten theme behind most every prophecy of judgment is: This is what will happen if you do not repent. Here the prophet pleads with the nation to repent before it is too late.
Zephaniah speaks to us of a Jerusalem forgiven and rebuilt, but let us remember that Jerusalem does not represent only the Christian people, but each one of us.
The prophet called for a sense of urgency in repentance. Each day passes like chaff, and there is nothing to show for the day if we neglect what is most important: getting right and staying right with God.
How easy it is to let the days pass like chaff, and never get right with God! Often the devil's most powerful lie isn't that there is no God, or no Bible, or no truth; often his most powerful lie is that there is no hurry. Nevertheless, today is the day of salvation.
Although in the eyes of the world it may sound illusory or presumptuous, we are called to save the wise and the ignorant, the strong and the weak. And we know that the only salvation is to draw near to Christ, to a Christ who SHOULD BE visible in your life and in mine.
You have been called, so reflect! We must not believe that God has given us a charism and an apostolic mission to entertain us or to keep us closed in on ourselves, without looking at the world and doing what He wants. We must confound the wise!
God has chosen us to confound the wise. We go into the world unarmed, that is, without human weapons.
Will they want to see our physical and moral strength? We will show our physical and moral weakness.
Our moral weakness is shown when we repent and it is hidden when we never ask for forgiveness or confess our faults. It is hidden when we always find excuses, like the one who is unpunctual and says that his problem is "not knowing how to measure time". Like the person who does not know how to say "thank you" when he receives a small favor, a minuscule service, for example, if someone fills his glass of water.
Showing ourselves to be vulnerable in recognizing our faults, especially in the case of those who are superior, of those whom we have to guide others, is a very powerful spiritual weapon, because it shows the presence of God in our small and limited life.
Let us combine the teaching of Zephaniah and that of St. Paul: today is the day of salvation, today is the day in which our way of living as poor in spirit, meek and merciful, must be a light for all, also and especially for the wise and the strong.
And all this, without boasting about anything.
_______________________________
In the Sacred Hearts of Jesus, Mary and Joseph,
Luis CASASUS
President
DOWNLOAD PDF