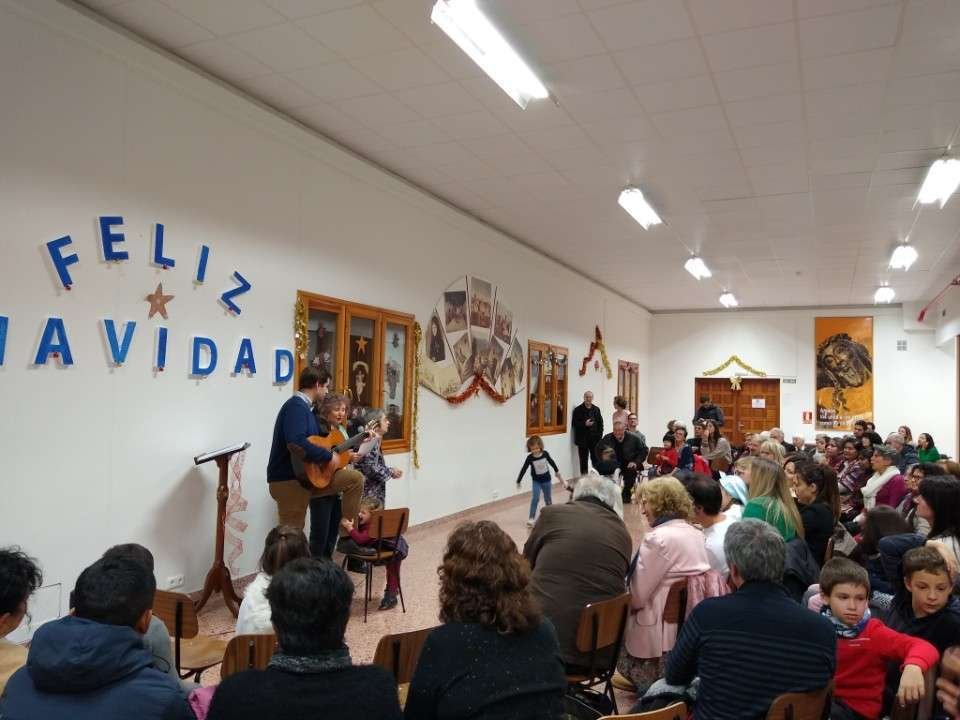 On December 22, the Idente missionaries, together with the Idente Youth of Navarre, celebrated the traditional Christmas Athenaeum in the Diocesan Center of Javier. The Idente family and friends from the towns of Javier, Yesa, Sangüesa and Pamplona attended. Everyone was impressed by the large number of families who gathered to begin the Christmas celebrations of 2019. The characteristic note of the afternoon was given by the children, who with their joy and spontaneity helped to create a Christmas atmosphere.
After the welcome greeting to the participants, a Christmas carol was sung that involved everyone "In each home a Bethlehem". Then, as in past years, the children of Yesa, formed "the musical living Bethlehem" pointing out the meaning of each character and the joy of the Birth of the Child God with the representation of a carol. Afterwards, the assistants sang Christmas carols, the children played different musical instruments, sang, joked and there was even time for storytelling.
It was a very familiar afternoon where everyone, from the youngest to the oldest, participated and enjoyed the performances. The athenaeum concluded with the recitation of a poem by the Founder of the missionaries, Fernando Rielo Pardal.
After the Athenaeum, everyone enjoyed the snack that the missionaries had prepared and that was made possible by the collaboration of the people who came. It was an opportunity to speak and to share the experiences lived during the year, to renew the friendship and to experience that one can live an afternoon in a family atmosphere with joy. At the farewell, everyone expressed their gratitude for how beautiful it had been and how much fun they had had, and that they hoped they would continue to be invited.
For the missionaries it was an afternoon of much joy since they had the opportunity to give testimony of their faith and to show through all the activities, the joy of the birth of the Child of Bethlehem while respecting the beliefs of the people.