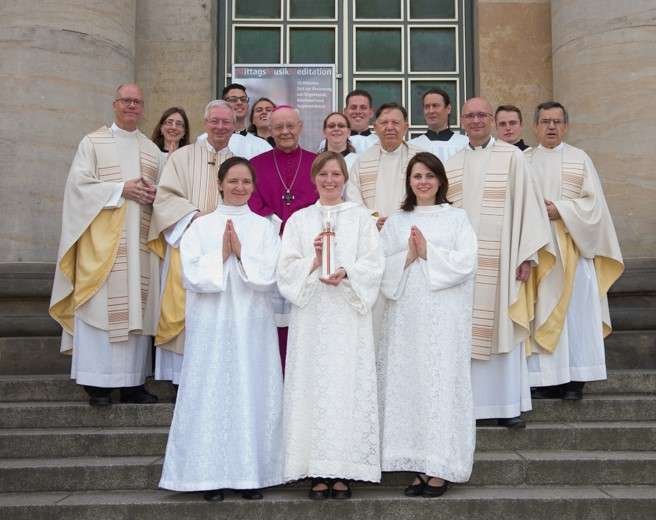 On Saturday, June 16, the German idente missionary Rebecca Sattler made her temporary vows at the Cathedral of Berlin. The ceremony was presided by the prelate Dr. Stefan Dybowski, in charge of the religious orders of women for the Archdiocese of Berlin. The President of the Institution, Fr. Jesús Fernández Hernández, concelebrated together with other idente brothers.
In the homily the prelate addressed some precious words to the professing sister, which made a deep impression on all the guests. He highlighted three aspects of the charism and life of the founder Fernando Rielo: 1) the freedom to live on earth without belonging to the earth, 2) the strength to persist in moments of aridity and 3) to live and transmit holiness seeing the earth from heaven and not heaven from the earth.
At the end of the Mass, the President addressed some words to those attending the event:
"The yes is like an arrow directed to the heart of the Father. And the Father's heart does not bleed. The only thing that it produces is mercy, forgiveness, the desire to be with us. And every time a person says to Christ "yes!", and to the Father and to the Holy Spirit, "yes!", enormous blessings are shed upon mankind. With our narrow minds, we would like heaven to be the same as the earth. That heaven that we carry here within us, will open more and more thanks to our ever renewed "yes!" There are young people here. A yes is just one syllable. But it changes a person's life. Then, when a man or a woman says "yes!" to Christ, who truly loves them, soon afterwards fruits are produced."
It was a day full of graces. Many of the guests -among them some unbaptized persons, some Muslims and Buddhists- were attending a mass for the first time. After it a reception took place, in which the President and the idente women's General Superior, taking advantage of the presence of many young people, spoke about the life of prayer and holiness. Everyone was deeply moved by the ceremony as well as the words they heard.
We can already witness the fruits that this special moment in the history of our Institution in Germany is bringing to our life of holiness.