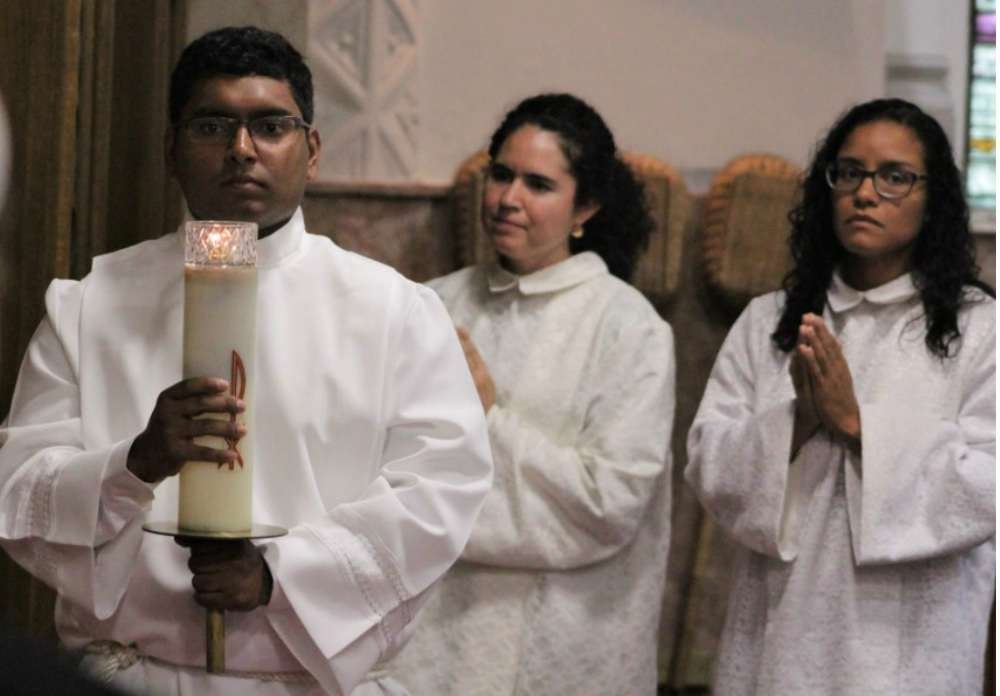 "Then I heard the voice of the Lord saying, 'Whom shall I send? Who will go for us?' 'Here I am,' I said; 'send me!'" (Isaiah 6:8)
On Saturday, September 7, in solemn celebration, our brother Loyce Selwyn Pinto from the New York province made his vows with the special presence of his family that traveled from India and Germany. Those who attended the ceremony included the Idente missionary brothers and sisters of New York, the Idente Family, and many parishioners from churches directed by the Idente Institute.
The holy mass was celebrated at the parish of St. Dominic's in the Bronx and was presided by Fr. Fernando Real, the General Procurator of the men's branch and concelebrated by Fr. Robert Badillo, Provincial Superior of the Idente brothers in New York along with fellow Idente priests. Our brother Fernando Real received the vows of Loyce, who joyfully gave all his life to Christ.
Many people from both Long Island and the Bronx accompanied Loyce on this day, particularly teens and kids from Idente Youth, who share with him a wonderful friendship as a professor and friend.
After the ceremony, a reception was held at the parish hall, in which the Provincial Superior of the missionary sisters, Elaine Schenk gave a toast to give thanks to the Heavenly Father for the life of Loyce and to truly live as a family the universal call to holiness. A special moment that was shared in honor of our brother Loyce was a liturgical dance about the Holy Spirit presented by the youth group Nuevo Amanecer from St. Dominic's.
We ask Christ for the happiness of our brother and that Mary may intercede in his final perseverance.