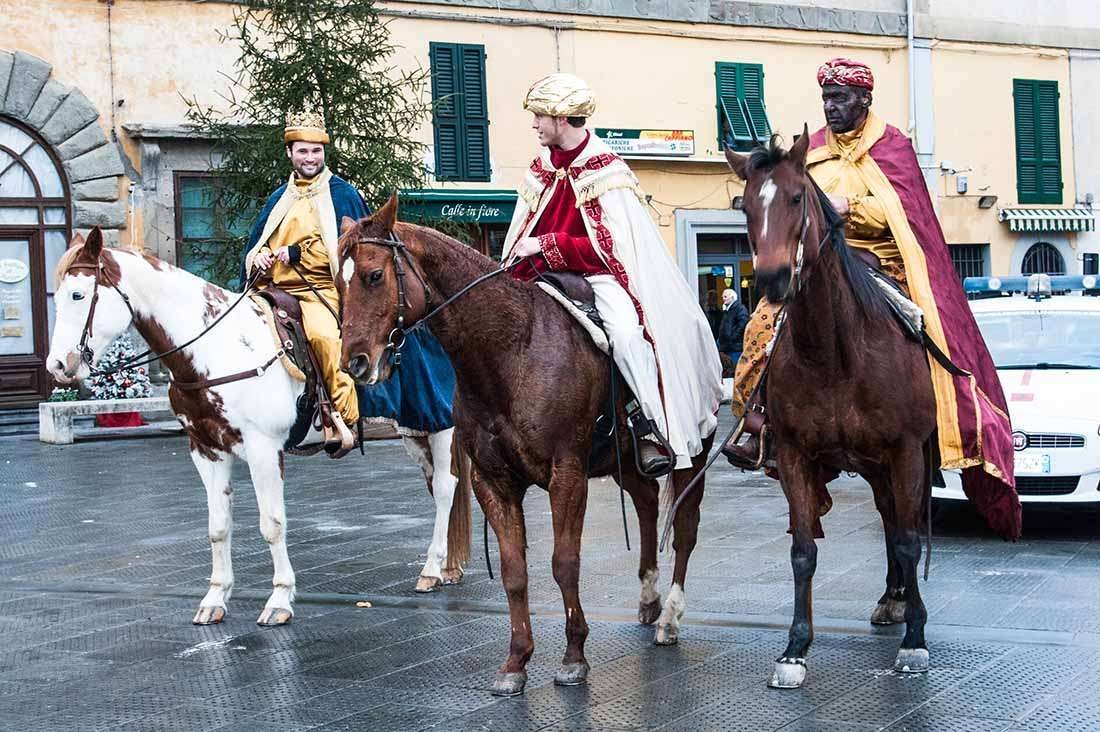 One more year took place in Fucecchio the Procession of the Magi, on the same Day of the Epiphany, January 6, in which many people from the Idente Family, some youth from Idente Youth and parish collaborators participated. It was a moment of particular grace, an atmosphere of peace and harmony, as well as of mutual help and communion among all persons gathered there.
The Procession was opened with the star of Bethlehem, the Magi on horseback followed by adults and little pages, angels, shepherds and shepherd boys, a chariot pulled by horses and a group of people with torches on the sides of the parade, also dressed in costumes of the time. From the main square of the village of Ponte a Cappiano walking for about 5 km, we arrive at the Collegiate Church, which is located in the historical center of Fucecchio. The Christmas carols accompanied the event and the people on the sidewalks of the streets awaited the passage and the greeting of the Magi to wish them a happy year. There we could feel a festive and solemn atmosphere.
Upon arriving at the church, all paid homage to Child Jesus, together with Mary and Joseph, especially the Magi, who offered them gold, incense and myrrh. The church was full of people, who listened attentively to the Message of the Magi, which gave way to the beginning of the solemn Mass, presided over by Bishop Andrea Migliavacca, Bishop of the Diocese of San Miniato, and concelebrated by our brother Ángel Rodríguez Guerro, by the new parish priest of Ponte a Cappiano and two priests from the neighboring parishes.
At the end of the celebration of the Mass there was a moment of particular emotion for the reading of the words that the Archpriest of Fucecchio, Fr. Andrea Cristiani, momentarily in Africa, sent through a message addressed to the idente women and men missionaries, present in the area, thanking us for our presence in the diocese. He greeted our brother Angel with great esteem and affection for his new mission in Bologna, and invited the missionaries to continue with courage in the organization of the Procession of the Magi, expressing his wish that the new parish priest may continue with this special initiative, along with the missionaries, because it is the only activity that involves the entire pastoral unity of the territory.
He also offered his collaboration, so that the event grows more and more, and many people can participate and identify themselves with the pastors who come to the Bethlehem portal, to pay homage to the Child Jesus.
The happiness of all was also highlighted by the presence of our sister Laura Rebaioli, who came especially from Turin, to help organize the event, and she was warmly greeted by the Bishop, the priests and the entire idente family.