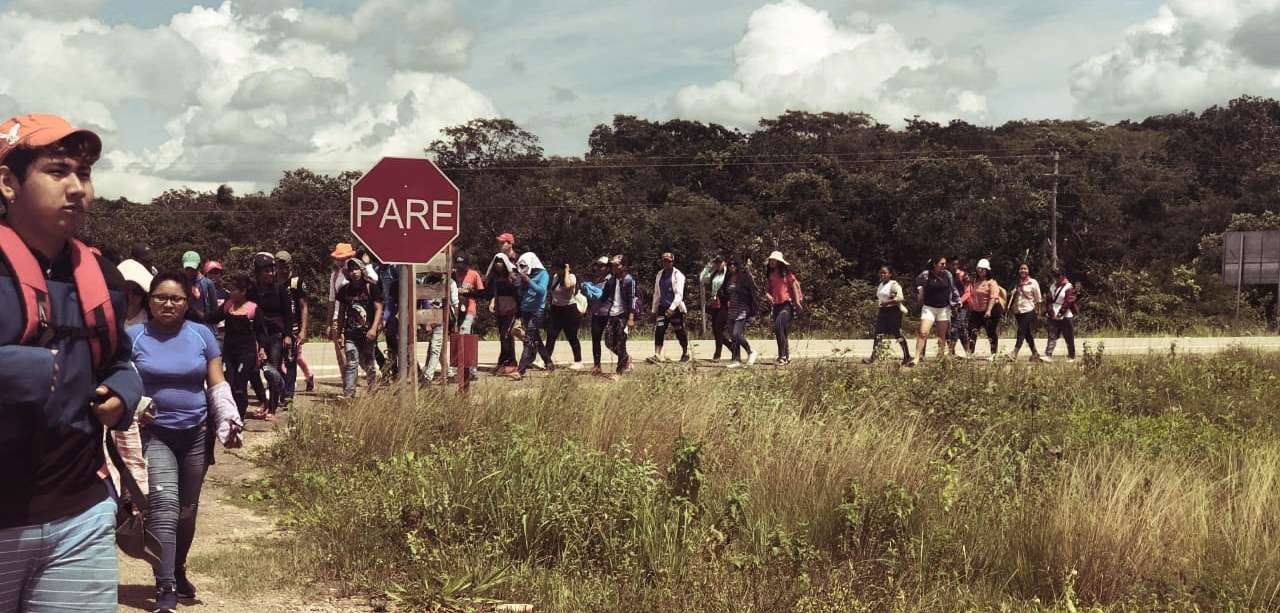 During the week of Monday, January 20 to Sunday, January 26, the National Idente Youth Camp was held in San Miguelito with more than 70 young people from Santa Cruz, San Ignacio and the communities (villages) of our rural parish of San Francisco Javier. Something special was that more than 40 young people from the parish participated and almost all of them had earned their camp by working in shifts for two weeks in the monastic city of San Miguelito in different areas: repairing fences, gardening, sanding and painting the walls of the former school, maintaining wooden fences and other tasks. Also thanks to the efforts of these enthusiastic young people, San Miguelito offered the young participants a renewed, welcoming atmosphere with new gardens, sidewalks and refurbished classrooms, but above all with a lot of human warmth and family spirit that could be appreciated throughout the camp.
During the whole week we have been able to enjoy, learn and share a great experience and coexistence between the campers and teachers, through the training spaces, in full contact with nature, discovering first of all the richness that each person has, in order to later give more and more of the best of oneself to the others.
San Miguelito is an ideal place, since it allowed us to appreciate and enjoy nature in its splendor, giving us every day its renewed and varied beauty. In the midst of this, we have seminars focused on mysticism, health and nature (medicinal plants), Idente Youth values and the history of the missions in Chiquitania, which along with the courses (knots, pencil carving, leather key rings, nutrition, hygiene, face painting and art therapy) allowed the young people not only to grow as persons, but also to find inner peace through teamwork and mutual help.
For most of the youth this camp was, as our Father and Founder says: "to discover heaven at every step", because "they have known how to walk wisely" between courses, artistic workshops, seminars, sports, hymns to the fire but also learning to cook, clean, serve meals and share their lives, dreams and hopes with other youth, teachers and missionaries.
For the boys in our rural communities, perhaps excessive shyness is one of the strongest obstacles when it comes to relating and communicating. It was something very beautiful to be able to observe, as day after day, and with the help of their peers and teachers – they have been opening up more to be able to share their lives and restore so many things, concerns and wounds that many of them feel and need to heal.
The contribution of the artistic workshops was the key where the children were able to discover the talents they still had inside and share them in front of others. This atmosphere of a real celebration grew until its culmination with the floral games where everything learned was reached to the fullness of creativity through teamwork.
This year, due to the complex political situation, the Delegation of La Paz was not able to participate, but the enthusiasm, the joy and the bond of friendship of the young people leads them from now on to think about the next camp to be held precisely in this magical city which, although a little distant from the Bolivian east, will be a source of inspiration for many of our young people.