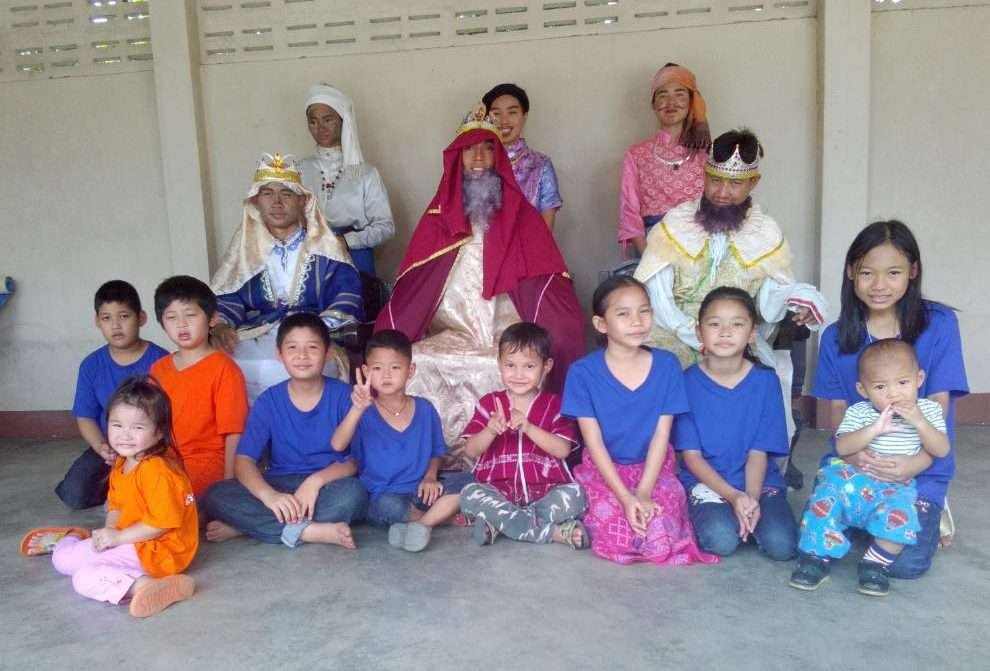 This year the Idente missionaries in Chiang Mai (Thailand) celebrated Christmas in two places. Bishop, His Excellency Mons. Francis Xavier Vira, requested our assistance once again in Wiang Pa Pao, where our brother Fr.Komkrit M.Id had worked for many years and is still remembered with great affection . A bust sculpture in his honor is also placed there. Fr.Tanogsak M.Id celebrated Christmas in Wiang Pa Pao. It was moving to see the deep faith of the people there. Numerous families of different tribes with their children came walking more than two hours through the mountains to attend the Christmas Mass. Since there is no other transportation in those areas, after the Mass people stayed back and spend the night in a nearby school and the following day walked back to their homes.
Other place where we had the celebration is in Chiang Mai at the Pastoral Center of Sarapi, where every Sunday several parishioners come to participate in the Mass from far away. In this area there are only a few Catholics, majority are Buddhists. Nevertheless several people participated in the Christmas celebrations. We celebrated the Christmas Vigil Mass. The community welcomed the Child Jesus, represented by the kids who are living with us.
After the Mass people stayed back and participated in the following celebrations. We played Tombola, which in Thailand is called "Soi dao" or "catch a star". All the prizes given away in the games were donated by our friends. People had to buy a ticket to participate in the games and the money collected in this way was given to our Church building fund.
The celebration continued with games, food and cultural programs including dance and nativity skits.
The Three Kings also came to visit us, sharing generously their gifts.
We hope that the spirit and joy of Christmas will diffuse more and more in this land and many more people will come to participate in the celebrations in the coming years. Thus, apart from the Christmas lights and the commercial symbol of Papa Noel, the true message of God's love to the humanity may be known all around Thailand.