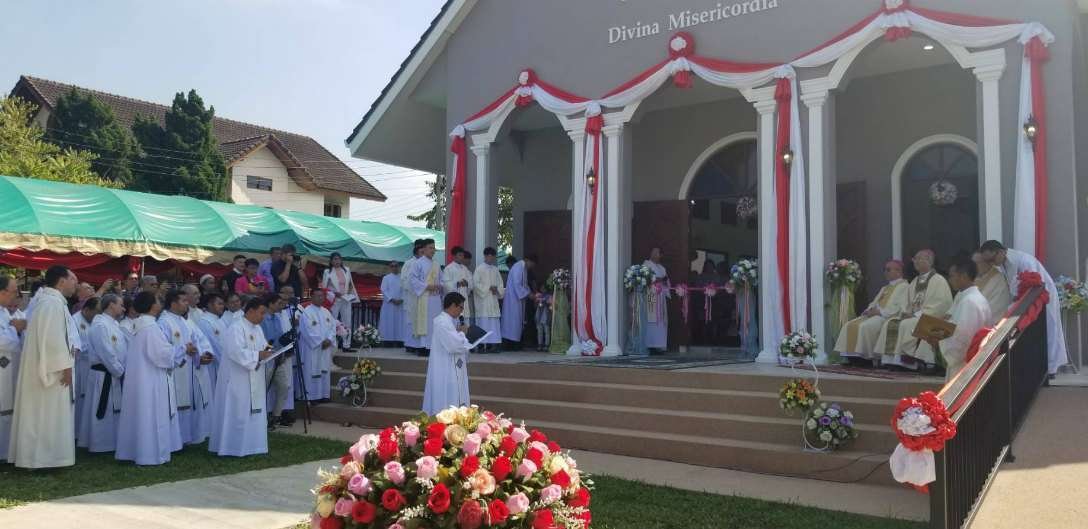 Coinciding with the celebration of the feast of St. John Paul II, creator of the liturgical feast of Divine Mercy, the consecration of the first Idente temple in Thailand, which bears the name of Divine Mercy, took place today at the provincial headquarters of the Idente Missionaries in the locality of Saraphi, Chiang Mai.
It was built with the financial help of a Catholic lady from Bangkok, known to the Bishop of Chiangmai, who told her about our new church project and recommended it to her. Other Catholic and Buddhist benefactors have also collaborated.
The Bishop of Chiang Mai and the Bishop of Chiang Rai presided over the ceremony, concelebrating with them our President, Fr. Jesus Fernandez Hernandez. Thirty priests also concelebrated.
The church and the surrounding area were elegantly decorated, thanks to the collaboration of a large number of volunteers, from children to the elderly, who worked tirelessly for several days and with great enthusiasm for this great moment.
About 600 people from Chiang Mai, Chiang Rai and Bangkok attended. They came from both the mountains and South America.
The auditorium, named ¨Fernando Rielo¨, was also blessed next to the church.
At the end of the Mass there was an agape to share the joy of all, especially of our parishioners who see this dream come true. We are sure that this beautiful temple will witness the spiritual enrichment of the many people who are going to come closer to Christ and will suppose a new impulse that the Father grants us in this mission.